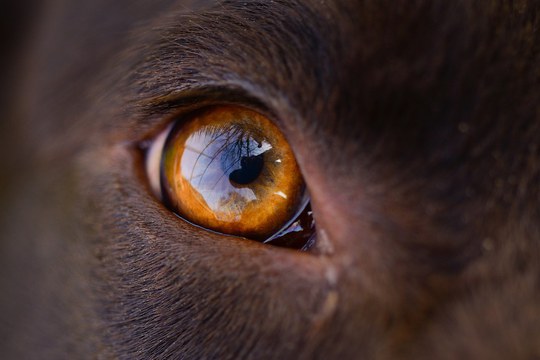 Keep an eye on your dog's eye! Dog Owner Ocular Microbiome
A study on the environment in which dogs and their owners live through the study of their tears
Published: 24 March 2023 | Innovazione e ricerca
We are an interdisciplinary group of researchers in biology, veterinary medicine, medicine, and physics at the University of Bologna, studying the environment in which dogs and their owners live through the analysis of their tears. Our goal is to have a better understanding of the exchanges of the bacteria present on the ocular surface of both dogs and owners, called the ocular surface microbiome.
We are currently recruiting participants for our study on the ocular surface microbiome of dogs and their owners.
What is the ocular surface microbiome?
The ocular surface microbiome (OSM) is the collection of microorganisms (bacteria, viruses, fungi) and their genes living on the surface of the eye. It is a normal feature of the healthy eye and plays a protective role in it. Compared to other microbiomes, the study of the OSM if fairly recent and has shown that it made up of a relatively small amount of not particularly diverse bacteria.
Why study the ocular surface microbiome of humans and their pets?
To date, no study on the relationships between dog and owner OSM has yet been undertaken. However, a study has shown that people living in a household with a pet had greater similarities in their nasal and skin microbiomes to each other and to their dog compared to people living without pets, or to other pets.  Similarly, within-household exchanges of bacteria like Escherichia coli or Proteus mirabilis among human and pet household members have been demonstrated. These studies suggest an influence of pets on promoting microbial exchange and the importance of bacteria-sharing dynamics within a household not only between humans, but also animals.
What are we going to do? – Our methodology
We will collect tear samples of dogs and owners to determine the bacteria present on the eye of each participant. Through statistics analysis, we will try to determine whether dogs and their owners likely share or exchange some of these bacteria and how it can affect their health (both positively and negatively).
Who are we recruiting?
Our study focuses on people living with a dog. We are interested in all breeds.
You do not wear contact lenses, even occasionally
You do not spend more than 6 hours a week in close contact with other animals (not dogs)
You and your dog do not have any ocular surface diseases or irritation at time of sampling
You and your dog have not used antibiotics in the last 6 months
You and your dog have not had ocular surgery in the last 12 months
You and your dog have lived together have lived together for at least 12 months
You and your dog do not have systemic diseases that affect the ocular microbiome (diabetes, Sjögren's syndrome, dry eye disease…)
The objectives of our project
The goal of this project is to determine if the fact that dogs and their owners share a living environment and are often in close contact could bring them to have similitudes in their ocular surface microbiome. The bacteria they share could have some positive impact on the health of both and owners, as well as a negative impact through the sharing of antibiotic resistant bacteria.
How you can get involved
You have a dog and want to be a part of our study? Fill out our recruitment questionnaire and we will get in touch with you soon to organize the sampling! https://forms.office.com/r/TtLtkn6GyW